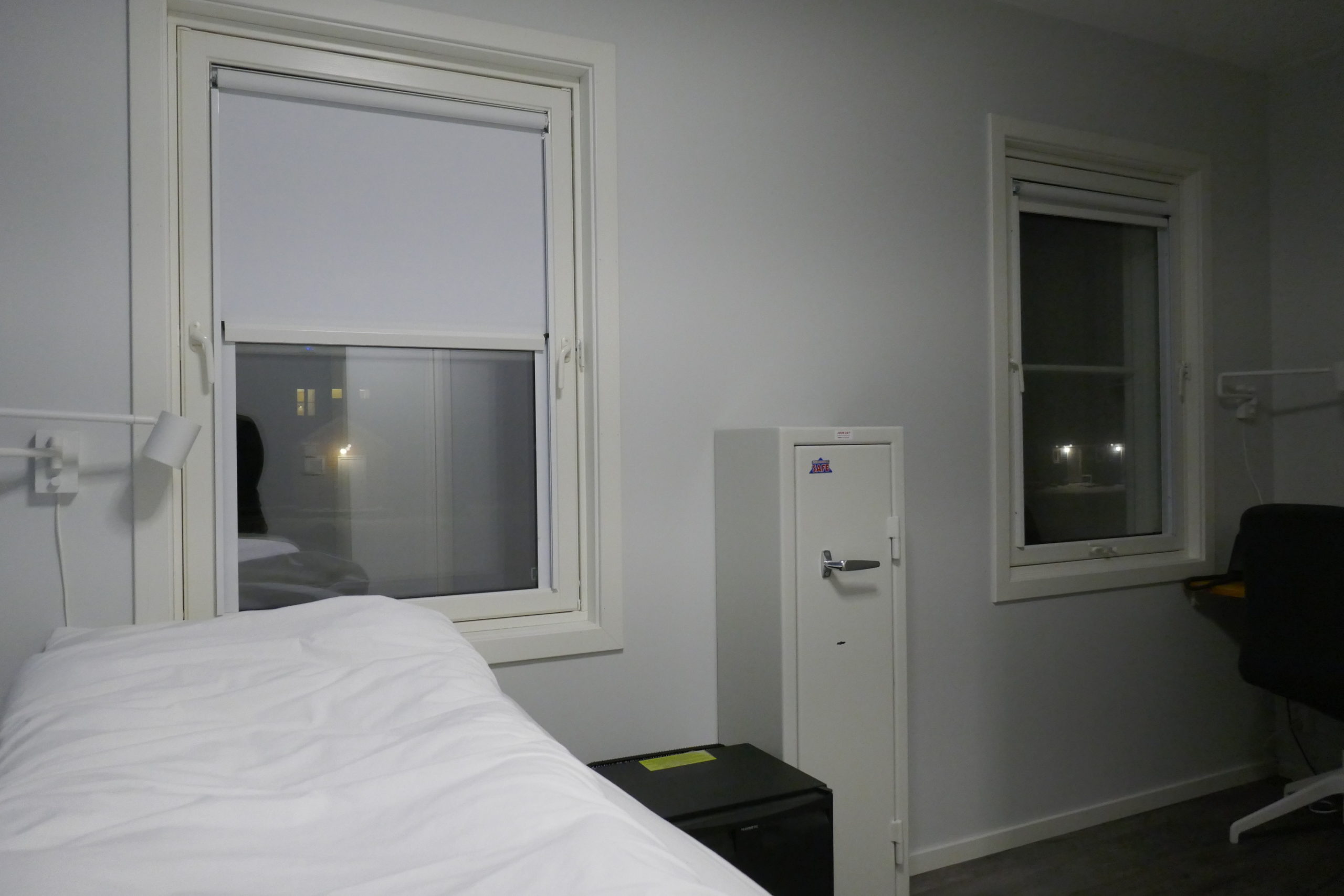 Sykehuset
Sykehuset (the hospital) was built in 1945, as one of Kings Bay's five "Swedish barracks". The building was used as a hospital until 1964, when the era of mining ended in Ny- Ålesund.
After many years as a scooter garage, Kings Bay laid a new foundation and refurbished the hospital into several rooms now used by scientists, consultants and visitors in Ny- Ålesund.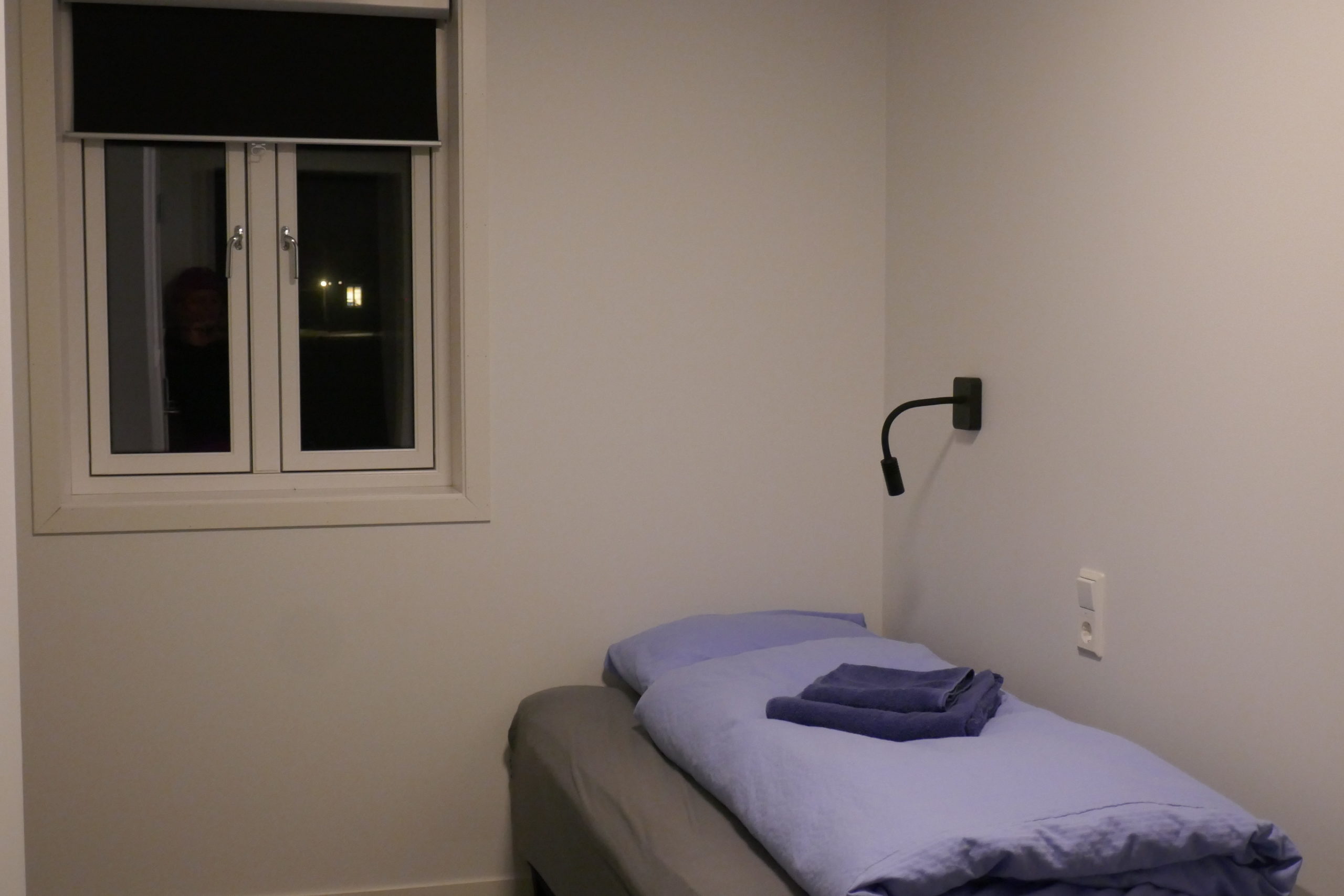 Veksthuset
Veksthuset opened in 2019, and Kings Bay rents out four of the rooms located here.
Ny-Ålesund Research Station
Detailed information about the research activities in Ny-Ålesund, about how to plan and execute a research project here, and a comprehensive description of the research infrastructure available to researchers is provided on the web site for Ny-Ålesund Research Station.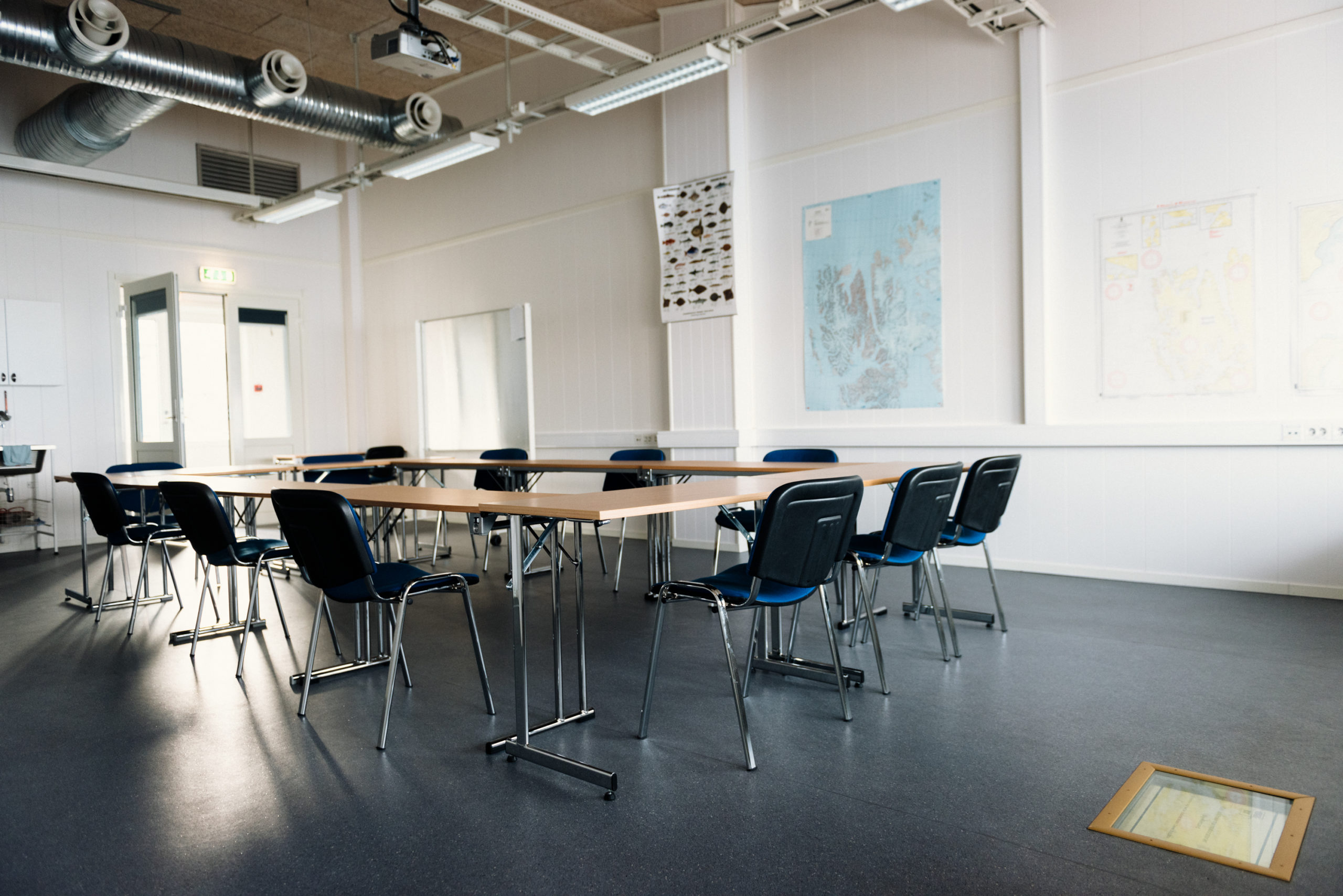 Marine Lab
The marine laboratory located by the docks, was built in 2004-5. Ny-Ålesunds researchers can rent laboratory space here, and it also has facilities for diving teams. Here it is possible to book a meeting in our conferance room with a beatiful view of the fjord and harbor.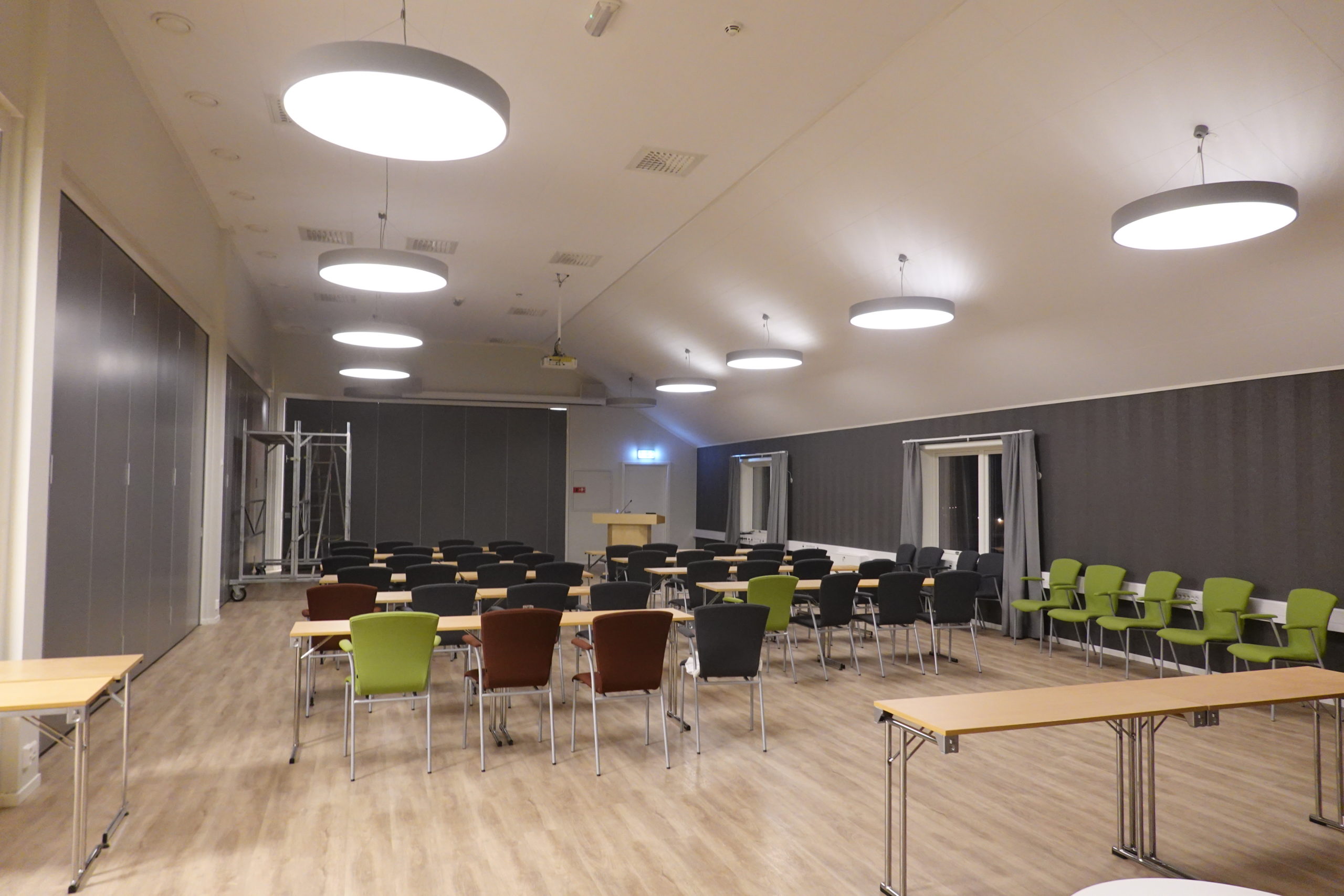 Kongsfjordhallen
Kongsfjordhallen is a two-story building built in 2015-16. The first floor has spacious premises for meetings, conferences and teaching. The maximum capacity is about 200 people, but the room can also be divided into four separate meeting rooms. There is also a small kitchen, and the view extends out to Kongsbreen. The ground floor is mainly for Kings Bays machine park and sand storage.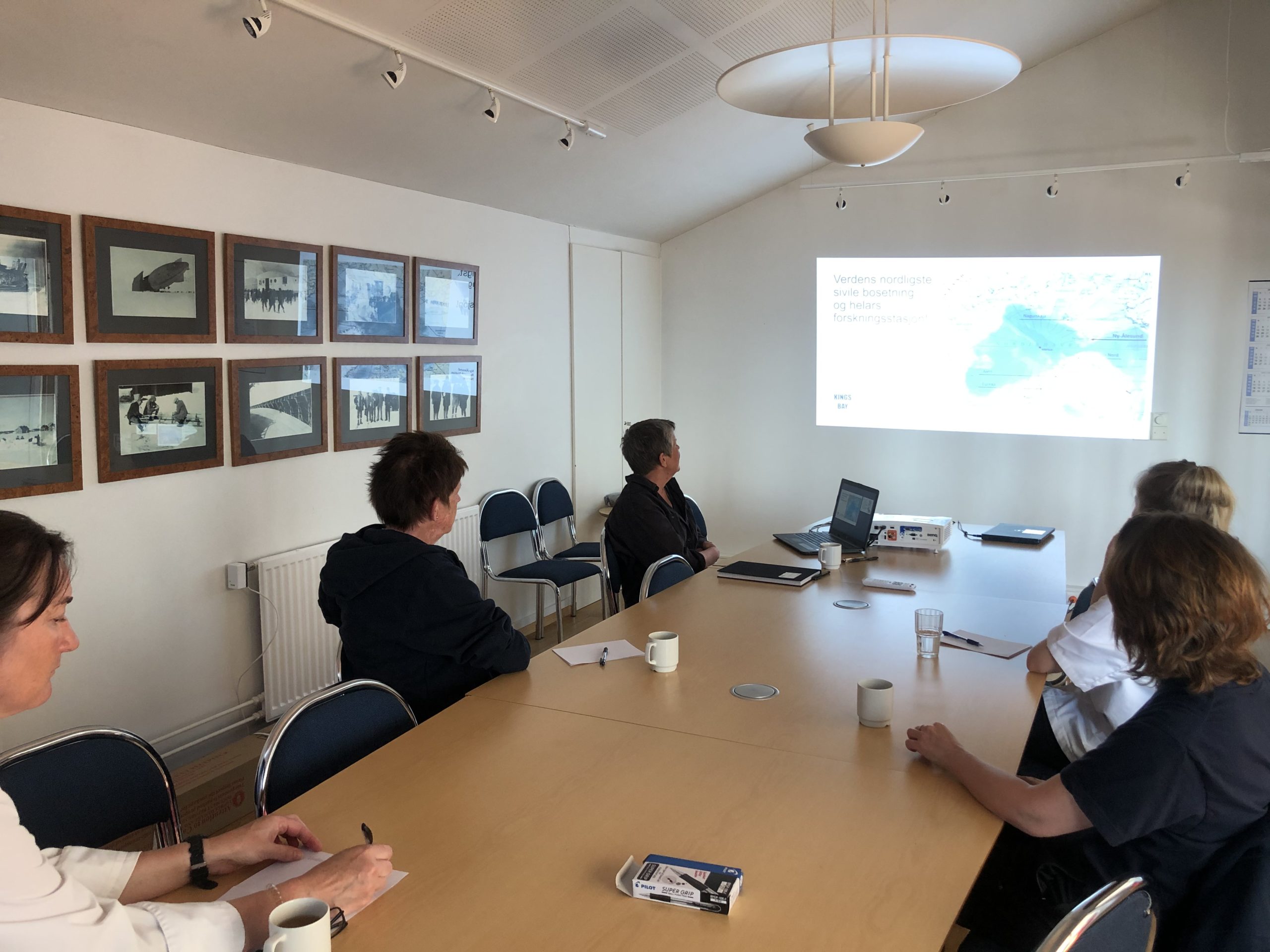 Zeppelin
The Zeppelin meeting room is located on the first floor of the servicebuilding. Here you have all you need for a meeting/conference for10-20 people, near the Kings Bay administration, reception and mess hall. The meeting room is conjoined with the Zeppelin salon, wich is the perfect location for small talk and views of the fjord.
Kongsfjordbutikken
It is mainly a souvernir shop, but also has some groceries. In addition to the typical T-shirts that can be found in any souvernir shop as well as small souvenirs, there are also some great handmade things on sale, such as hand- drawn postcards, art and jewelery.

Kongsfjordbutikken (Shop)
In our local shop (built in 1994) you can find anything from toiletries, souvenirs, local art, hand-made postcards, jewelry, warm socks (recommended!) and chocolate/snacks (ditto).
Kongsfjordbutikken also functions as one of the local post offices (packages must be sent from the reception), and the shop sells both postcards and stamps. The mailbox is emptied regularly. 
Alcoholic beverages are also sold here and can be bought by the inhabitants in Ny-Ålesund by either presenting an alcohol card issued by Sysselmesteren or by showing a plane ticket from the mainland to Svalbard.
The same rules apply for visitors by plane or boat from Longyearbyen.
Daily visitors, such as guests arriving with cruise ships/commercial ships/cargo ships from the mainland are not allowed to buy alcohol in the shop.

The mess and kitchen located on the ground floor of the service building is known as the heart of the city. This is where all the inhabitants of Ny-Ålesund eat their meals. The kitchen consists of five permanent chefs and has some extra help during the busy summer months.
The kitchen facilitates so that researchers can bring food on fieldtrips and so that the inhabitants can take food with them on cabin trips in the weekends.
Because of our location in the high north, we do not always have fresh fruits and vegetables, but all meals are nutritious, tasty and various.

Our laundry is a vital part of our department, and anything from bedlinen and towels to snowmobile suits is taken care of and made ready for new visitors.
When permanent staff is moving from Ny-Ålesund, we clean the apartments before we can greet new colleagues welcome.
The departments' employees are skilled in their field and have been working with this for years. The number of staff varies in number by season.
You are sure to see people from our department around town!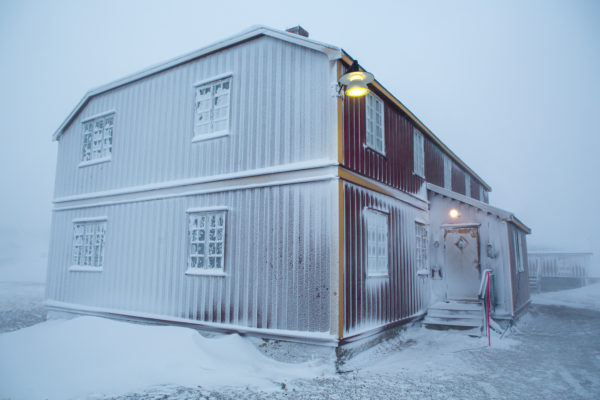 Nordpol hotel
Nordpolhotellet (brakke 14) was built in 1919, as a barracks for the miners. In 1936 it was built into a hotel and was used for this purpose until the start of the war in 1939. From 1946-64 it was used for clerks and their families as a mess. The building was rehabilitated in 1998 and has since been used as a hotel here in Ny-Ålesund.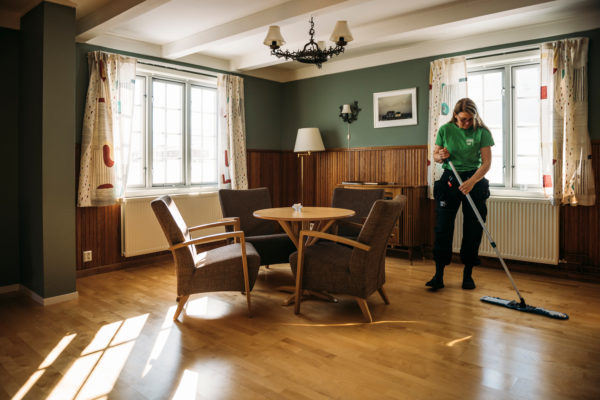 Hotel common room
In the pleasant common room at the hotel, you will find an old radio and a tv. Since we have no wi-fi, you can use this room for talking, social gatherings, knitting or just enjoy the calm of the town. You will also find a kitchenette on the first floor.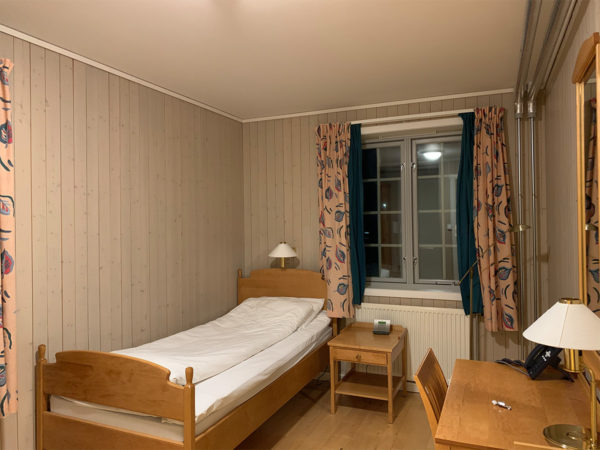 Hotel rooms
The rooms are equipped with their own bathroom, phone and ethernet cable for your laptop or cellphone. There are 3 double rooms and 8 singles.
Double room number 24 of the hotel we call "Kongerommet", here many royals have stayed, as well as many prominent guests. A beautiful and historic room.

Veksthuset is a two-story building built in 2019. It was built on the grounds of the old greenhouse, hence the name. the first floor is divided into several laboratories, and the ground floor contains rooms for rent, a common room with a kitchen and a beautiful view of Kongsfjorden (Kings Bay).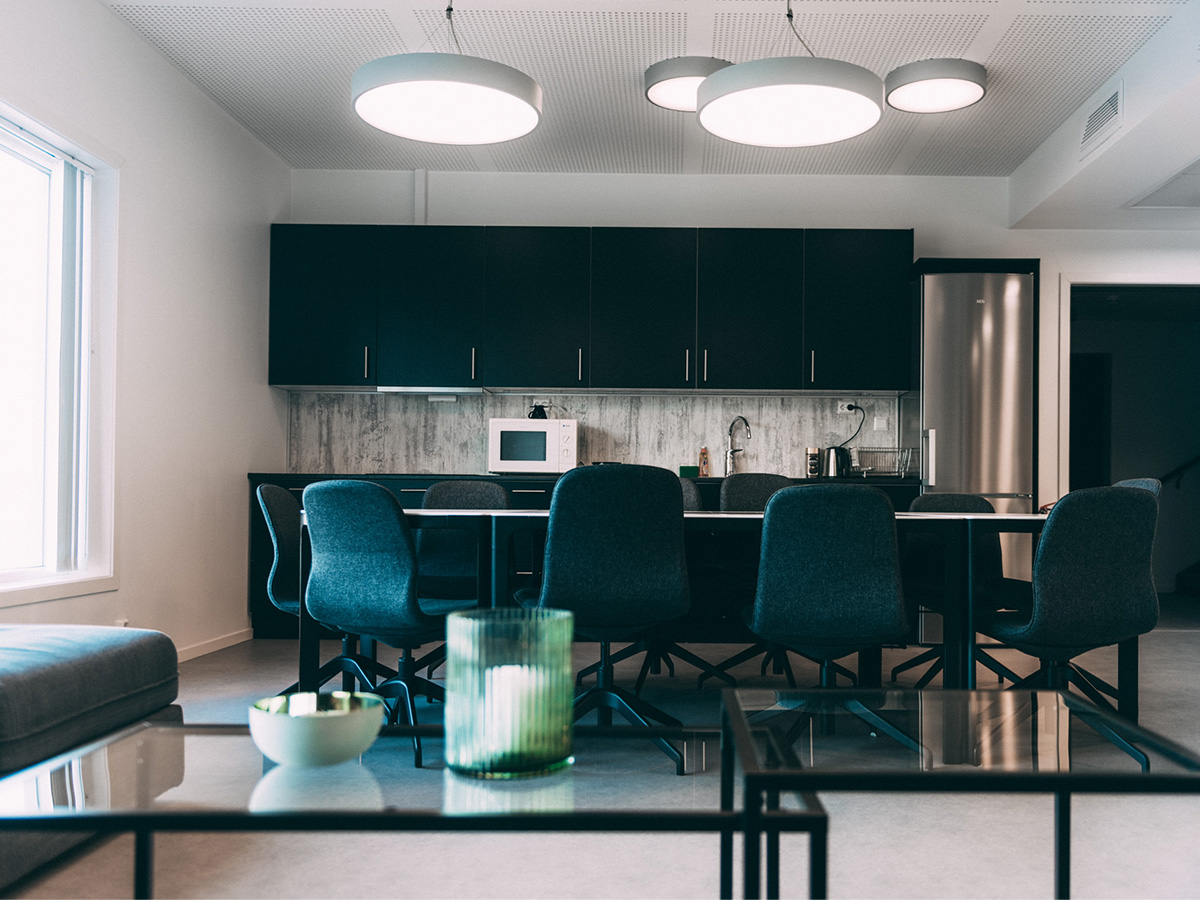 Common room
The common room on the first floor has a fully equipped kitchen, toilets and laundry. this room also have a big sofa and can be used for meetings or other social gatherings.